Joe Satriani "Hurt" by Ritchie Blackmore's Comments About His Playing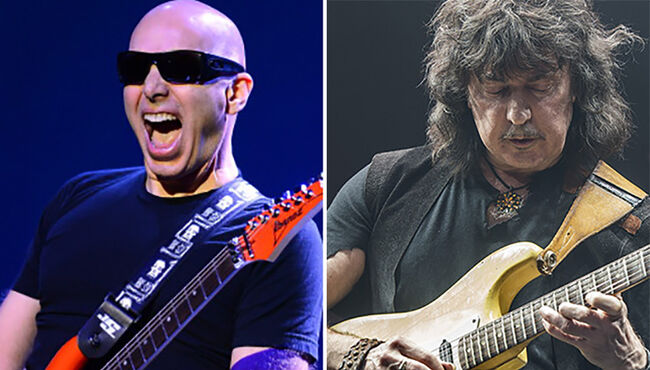 Ritchie Blackmore is at the same time one of the most revered guitarists in the history of rock music and one of the genre's most loathed personalities. Frankly, he's done plenty to earn both distinctions.
So when Blackmore recently attempted to describe what he likes to hear in a guitar player and subsequently offered a back-handed compliment to guitar wizard Joe Satriani, no amount of prefacing could keep the shot from hitting Satch right in the feelings.
"Joe Satriani is a brilliant player, but I never see him really searching for notes; I never hear him playing a wrong note," Blackmore said in archival video recently uploaded to his YouTube channel. "Jimi Hendrix used to play lots of wrong notes because he was searching all the time ... and when he did find that right note, wow, that was incredible. If you're always playing the correct notes, there's something wrong; you're not searching, you're not reaching for anything. But that's not to say that he isn't a very brilliant player."
No, Blackmore's not very good a compliments, is he?
"It's unfortunate when somebody that you look up to has something negative to say about you," Satriani told Rock Talk with Mitch Lafon. "That part will always hurt. I wouldn't hide my feelings about that."
Satriani, who toured with Deep Purple from 1993 to 1994 as the band transitioned from Blackmore to current guitarist Steve Morse, pointed out that ultimately he understands that he's in a position where he gets criticized for anything he does or doesn't do. But that doesn't mean Blackmore's criticism doesn't sting.
"I understand why he would have to say something negative," he continued. "I can kind of laugh at it, because I'm not like that myself. I tend to just look at the positive of another musician and focus on that."
Listen to the full Satriani interview below.
It will be interesting to know if Blackmore deigns to clarify his remarks in the coming months. Though he's never been one to mince words or readily apologize.
Blackmore later added that he finds guitar players "kind of boring — and that's not meant as a dig. I find myself boring."
Many music historians would agree that Blackmore's bluesy yet neo-classical approach in Deep Purple and in Rainbow brought about the style players like Eddie Van Halen, Steve Vai and Satriani helped push forward in the late-'70s and '80s.
One thing that is clear is Satriani and Blackmore's mutual admiration of Hendrix. When asked recently by Q104.3 New York what guitarist he would take lessons from, living or dead, Satriani named Hendrix without hesitation. We could all learn something from Hendrix.
Photos: Getty Images